Welcome to the LOA (Lower Olefins and Aromatics) REACH Consortium website
This website is intended to provide some general information on the Consortium, its objectives and scope, the substances which were registered in 2010, costs of letters of access for those substances and instructions on how to join any of the JSGs currently managed by the LOA REACH Consortium.
LOA Metabolomics Webinar
Access the documents related to the LOA webinar 'Utility of Metabolomics to Support Read-Across for UVCB Substances under REACH'.
---
About LOA REACH Consortium
In June 2008, the Lower Olefins and Aromatics REACH Consortium ("LOA REACH Consortium") was established. Any eligible company that submitted a signed Accession Agreement by 31 December 2009 was able to complete the admission process to join the Consortium. The LOA REACH Consortium remained an open-ended consortium that welcomed applications from EU and non-EU manufacturers and importers of Lower Olefins and Aromatics. Non-EU manufacturers must be represented by an EU-based Only Representative.
Membership of the LOA REACH Consortium is currently open. In August 2021 there are 46 Members.
This diagram shows the structure of the LOA consortium.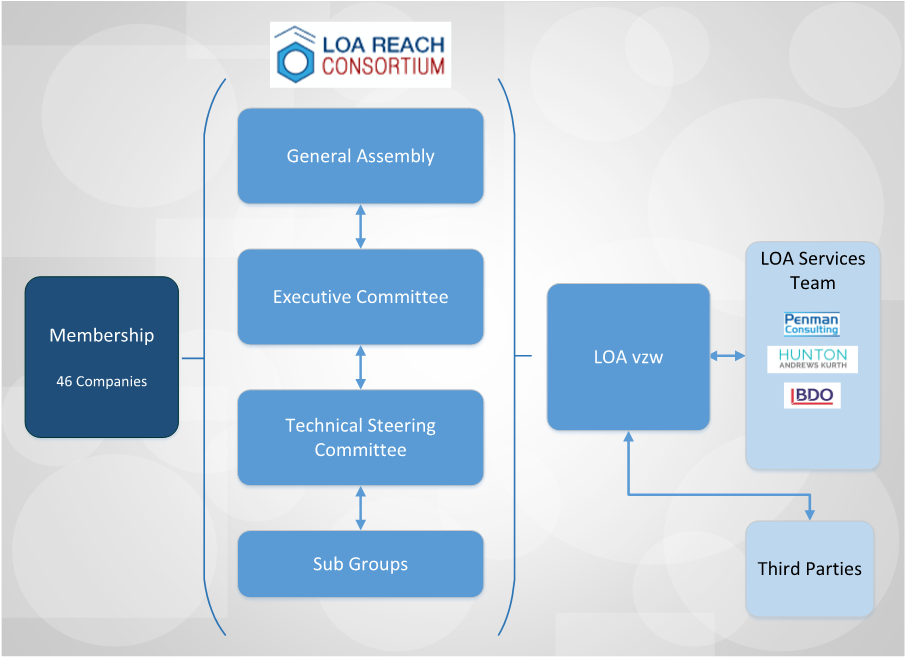 Objectives
The LOA REACH Consortium's purpose is to assist its Members with their REACH registrations in a cost efficient manner by combining financial and human resources. It also ensures that that the documentation produced continues to be fit for the purpose of supporting Member Companies' REACH registrations.
Scope
150 Lower Olefin and Aromatic substances (for a full listing see the substance information tab)
Substances and UVCB streams
12 Categories to group similar UVCBs for efficient data sharing.
Major activities
Develop and maintain joint technical dossiers for registration purposes
Gather and assess existing studies
Identify data gaps, apply read-across approaches where possible, assess opportunities for alternative approaches
Develop testing proposals to close identified data gaps, prepare study summaries and robust study summaries for regulatory submission
Develop uniform classification and labelling proposals according to CLP
Prepare Chemical Safety Reports and "Guidance on safe use" in respect of uses common to at least half of the Members
Perform risk assessments
Initiate testing where required
Post-registration
The LOA REACH Consortium has continued to develop the dossiers, with Lead Registrants making regular updates to reflect changes in ECHA Guidance, interpretation of the REACH Regulation, and changes to IT Tools which are mandatory for registrations and their ongoing maintenance.
In 2015 LOA ran surveys to review use patterns and the available analytical data on UVCB streams. These data are being used to inform the next updates of the dossier on the substances managed in LOA. The updating programme (2017) also encompasses the changes in the dossier creation tool (IUCLID) and the exposure assessment tool (Chesar). Registrants are kept updated on developments in the programme via the substance information pages managed by LOA.
---